532 - Engineering Adaptability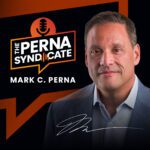 Episode: 532
Episode Title: Engineering Adaptability
The ability to adapt is one of the most important skills you can possess today. So how adaptable are you? Let's talk about it, next on The Perna Syndicate.
Ep 532 show:
Welcome to The Perna Syndicate! In the workplace, as in the rest of life, attitude is everything. So how do you make sure your attitude is setting you up for success? Attitude is a broad concept and more of an ingrained mindset than anything else—which can make it hard to tackle.
That's why I think one of the best ways to change our attitude is to develop our professional skills. Intentionally changing how we handle the everyday situations of life and work will trickle over into the attitude that underlies all our actions. And the more we practice, the more a winning attitude will become second nature.
One of the first professional skills on my list to help engineer that winning attitude is adaptability. And it's not hard to see why. The world of work (and the world in general) has changed so much, so fast in recent years. We've all been called upon to adapt in radical ways. Some adapted quickly; others struggled.
Flexibility isn't just something employers have to offer their people. You too, as an individual contributor, must be open to not just learn new things, but implement them. Change is the only constant, and that's why those who can adapt quickly and effectively will thrive.
Here's a question to assess how adaptable you are. Ask yourself: am I consistently willing to embrace the new, instead of clinging to what is safe and familiar?
Tomorrow: teachable people usually have great attitudes. Join me tomorrow on The Perna Syndicate to discuss exactly what it means to be teachable. See you then!
---
---
---