525 - A More Flexible Future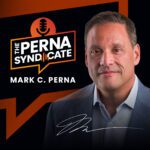 Episode: 525
Episode Title: A More Flexible Future
Flexibility in education is possible—but are we brave enough to embrace it? Let's ask that question, coming up next on The Perna Syndicate.
Ep 525 show:
This is The Perna Syndicate—thanks for tuning in! Flexibility in the education system—is it even possible? As we've talked about this week, yes, there are ways to make it happen. But will educators, parents, and society in general see the value in it?
It's unclear what will happen if the system remains rigid and inflexible in its demands on both teachers and students. This is about far more than just making the teaching profession more attractive to current and aspiring teachers. It's a question of how we deliver instruction as a whole. Do we stay with the traditional model of mass-produced learning, or is it time for a more individualized approach?
If we want to keep teachers teaching and students engaged in their learning, flexibility and personalization are non-negotiable. But this will require societal change, with all stakeholders on board and looking ahead. Online and blended learning options can be a part of that more flexible future.
Now is the moment to shift the paradigm and adapt the educational experience for everyone involved. Flexibility is the future of education—if we're brave enough to embrace it.
That's all for this week! Thanks for tuning in and making The Perna Syndicate a part of your day. I'm your host, Mark Perna, and we'll see you back here next week for more on The Perna Syndicate. Until then, take care!
---
---
---