50 - Three ways to enjoy working from home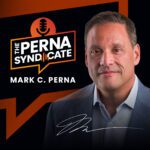 Episode: 50-three-ways-to-enjoy-working-from-home
Do you enjoy working from home? If not, I've got three ways to make it better. Stay tuned for more, coming up next.
Ep 50 show:
Hello, and welcome – you're in the Perna Syndicate! Yesterday, we talked about how working from home might feel new to us, but it's actually the oldest model of human productivity. Today, I've got three ways to make your work-from-home life that much better. And the first one is adaptability.
When America shut down last March, many people struggled big time with the adjustment to remote work. As human beings, we crave routine. But this is where adaptability is essential. Being able to roll with the punches and stay positive even when things are tough is a critical skill in every part of life.
Positive self-talk is another way to navigate the transition. For instance, rather than saying "I 'have to' work from home," start saying "I 'get to' work from home." You can view this new normal as a problem to solve—or an opportunity to seize. It's your choice.
Finally, show grace to yourself and others. That simply means extending patience, kindness and understanding to your family and coworkers. It's been a rough year for everyone, but every time we show grace to one another, we make it a little bit better.
Remote work may have its challenges, but it's here to stay. Being adaptable, using positive self-talk, and showing grace are three ways to navigate the new norm of remote work—and thrive.
That's it for this week—thanks for being part of the Syndicate. For more strategies and tips, connect with me on Facebook, Twitter, and LinkedIn. See you next week!
---
---
---