490 - Making a Difference Through Work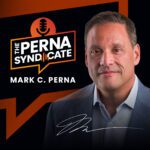 Episode: 490
Episode Title: Making a Difference Through Work
File Name: making-a-difference-through-work
Contrary to what many people think, Gen Z wants to work hard and make a difference in the world. Let's talk about it, coming up next on The Perna Syndicate.
Ep 490 show:
Hello and happy Friday on The Perna Syndicate! Gen Z often gets a bad rap from older generations who don't understand what drives them. That's why I always enjoy stats and research that reveal a very different picture of this talented generation. 
The TalentLMS study we've been covering all week has a good pulse on what motivates Gen Z at work. And it contradicts all the negative stereotypes that say Gen Z is lazy, entitled, et cetera. 
As it turns out, Gen Z is actually very passionate about their work. More than a third say that not doing work they're passionate for would cause them to quit their job.
And that's why it should worry managers when 64% of Gen Z workers say it's easy to complete the tasks expected of them in the workplace. If the work is too simple, people get bored. And boredom never leads to good things. 
Managers should raise their expectations for what younger workers can deliver and give them stretch assignments. In most cases, they'll be pleasantly surprised with the results. 
Most people want to make a positive difference in the world through the work they do. Once again, Gen Z is no different. 
Thanks for tuning in and making The Perna Syndicate a part of your week! I'm your host, Mark Perna, and we'll see you back here next week for more on The Perna Syndicate. Until then, take care!
---
---
---