468 - Training That Employees Actually Want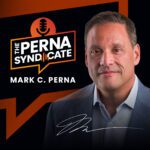 Episode: 468
Episode Title: Training That Employees Actually Want
What's important to employees when it comes to learning & development at work? Here's what a recent study uncovered, coming up next on The Perna Syndicate.
Ep 468 show:
Welcome to The Perna Syndicate! In a workplace that is changing faster than ever, learning and development is a hot commodity. People know they need to keep current in their skills if they want to stay competitive, and that means constant learning.
This week, we're looking at a recent study that digs into why workforce training has become a major perk. The research found that a whopping 75% of employees are overall satisfied with the learning and development in their companies. Of course, that does leave a small but critical minority of employees who are dissatisfied.
A company's training culture is directly related to its retention. 76% of workers said they're more likely to stay with a company that offers continuous training.
And this training can't just be a one-size-fits-all program. 38% of workers want companies to better align training with actual job responsibilities. What else would make their company's learning program better? A third believe training should be both more social and updated more frequently.
One of the most interesting numbers turned up by this survey is just how many people are upskilling on their own, apart from an employer training program. It's one of every two employees who are seeking learning opportunities on their own time, completely separate from training at work.
That's a startling number. It says a lot for the initiative of the average worker—and issues a big challenge for companies to up their game when it comes to their L&D culture.
Tomorrow: should companies offer different training for different generations? I'll share my thoughts on the next episode of The Perna Syndicate. See you then!
---
---
---