437 - The Warning Signs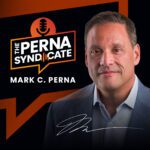 Episode: 437
Episode Title: The Warning Signs
Having a candid, even uncomfortable conversation with someone is a great way to keep them at your organization, right? Actually yes, it is. Here's why, next on The Perna Syndicate.
Ep 437 show:
Hello and welcome—you're now in The Perna Syndicate! How can you offer constructive criticism when you're interacting with someone remotely? It's hard, but it can be done in a way that benefits everyone.
With all the current hiring and retention challenges, it may seem counterintuitive to view tough conversations as an opportunity rather than a liability. But it's true: if you take the time to honestly, carefully address an issue with someone, they are much more likely to feel respected and valued as a part of the organization.
Tough conversations are actually retention opportunities because they show the other person that you care enough about them and their performance to push through that uncomfortable moment and help them grow.
So what are the warning signs that a tough conversation might be needed? If you observe missed deadlines or incomplete work, poor communication with colleagues, customers or vendors, substandard work quality, and in some cases, an unexplained change in behavior or performance, it probably merits a focused, one-on-one chat.
Smart managers try to tune in to these warning signs before they get out of hand. They may be harder to spot when people are working and learning from home. It all comes back to building and maintaining good relationships, even remotely.
Tomorrow: The most important part of a tough conversation is what happens before you have it. We'll talk about how to prep yourself and the other person on the next episode of The Perna Syndicate. See you then!
---
---
---