427 - No Small Stuff on Your Resume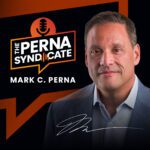 Episode: 427
Episode Title: No Small Stuff on Your Resume
What are the so-called "small" mistakes on your resume that could be costing you the interview? Here's what a new analysis uncovered, next on The Perna Syndicate.
Ep 427 show:
You're now in The Perna Syndicate—welcome! A new analysis of almost 93,000 U.S. resumes found that more than half of them contain one or more mistakes. Unfortunately, these errors may be disqualifying applicants for the job before they even get an interview.
Your resume is the first impression that a potential employer has of you. And that's why it has to be absolutely perfect. Even though we're in the midst of a record talent shortage, employers still want employees who take their professional image seriously.
Okay, you're thinking, I'll run spell check on my resume just to be sure. Then I'm good to go. Well, not so fast. Before you make any changes to the content, you also need to pay attention to how your resume file is titled.
According to the analysis, a significant number of resumes were titled something unprofessional, like "draft" or "untitled". How is your resume going to stand out in a list when it's titled something like that?
An ideal resume should have a filename that includes your full name and the word "resume." For example: "John Smith Resume." Doing so will help a recruiter or hiring manager locate the document easily.
This may sound like small stuff, but when it comes to your resume, there really isn't any such thing as small stuff. Your resume reflects you as a professional, so all of it matters.
So, typos and unprofessional filenames are a bad look on your resume. What other mistakes might be costing you the interview? We'll talk about them on the next episode of The Perna Syndicate. See you then!
---
---
---