420 - Investing in Your Mental Health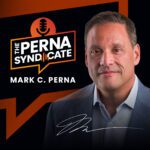 Episode: 420
Episode Title: Investing in Your Mental Health
Should managers share their mental health struggles with their teams? Let's talk about it, coming up next on The Perna Syndicate.
Ep 420 show:
This is The Perna Syndicate—hello and welcome! All week we've been talking about the need for managers to pay attention to their employees' mental health. Younger workers especially are becoming more prone to problems like depression, anxiety, and others that impede their ability to function. 
Managers have a role to play in helping alleviate these problems, but to be effective, they also need to guard their own mental health. Being in a leadership position doesn't make you immune to mental-health challenges. But with the right habits, the risk can be reduced. 
It can help to think of your mental health as a necessary investment. It's not just a "nice-to-have," but rather a must-have for you to bring your best to work. Employees of all ages, at all levels within the organization, need to have a balance of experiences every day—such as fun, social contact, and accomplishment—in addition to or part of work tasks. Physical self-care, especially movement, sleep, and a healthy diet are critical for everyone. Leaders, that includes you!
You should also be intentional about seeking your own support, especially from work peers. Fostering peer relationships can help you feel a sense of community, which is important for your wellbeing. 
Can you help your team even if you don't have your mental health in a perfect place? The answer is yes. You can be transparent, model the right habits, and share what you've learned in your journey with the team. Chances are, they'll respect you even more for your honesty about these very real challenges.
Thanks for listening to The Perna Syndicate this week! I appreciate you tuning in and making this a part of your day. That's all for this week—I'm your host, Mark Perna, and we'll see you back here next week for more on The Perna Syndicate! 
---
---
---