41 - Are Younger Workers Really Job Hoppers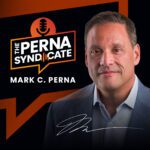 Episode: 41-Are-younger-workers-really-job-hoppers
Tease: Millennials are job-hoppers, incapable of remaining loyal to any one employer—or, are they? Let's answer this question today on The Perna Syndicate.
Ep 41 show:
Hello, I'm your host Mark Perna and on today's show, we're talking about loyalty. Much has been said about Millennial workers and their lack of loyalty toward their employers. This generation is typically painted as opportunists who move from job to job. But is this really true?
In 2019, the Deloitte Millennial Survey reported that nearly half of Millennials would, if they had a choice, quit their current job in the next two years. But in 2020, the Zapier Digital Natives Report found that Millennial employees, on average, plan to stay at their current job for 10 years. And Gen-Z isn't far behind, planning to stay at their current employment for six years.
These facts seem to contradict each other. How can they both be true? Well, it's all in the numbers.
If half of Millennials are apt to leave their current job within two years, that means, conversely, that a half are planning to stay longer, perhaps even until retirement. Average the two-year workers with the long-term workers and you'll end up with a 10-year number.
The aha moment here is this: When it comes to job loyalty, it's all or nothing for our youngest generations. If companies can inspire true passion and commitment in their younger workers, they will go all-in—even, as the Digital Natives Report asserts, to the point of job burnout.
This week we'll go deeper into what it takes to inspire loyalty in Millennial and Gen-Z workers. Here's a hint: It's so much more than ping-pong tables and other similar workplace perks.
There's more to the Syndicate at MarkCPerna.com. Check in for fresh content posted weekly.
---
---
---