404 - Hiring for the Right Outcomes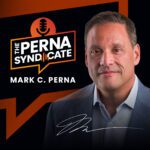 Episode: 404
Episode Title: Hiring for the Right Outcomes
Organizations are adapting to the new employee-driven market, and that means hiring for skills and outcomes, not degrees. Let's talk about it, next on The Perna Syndicate.
Ep 404 show:
You're now in The Perna Syndicate—hello and welcome! What's next for the workforce in 2022? Well, for one thing, we're seeing the hiring model shift away from the degree and toward a more skills-based approach.
Having a degree will no longer guarantee you a job in your field; you have to have the skills to back it up. And many people with the skills, but without the degree, are being tapped as a new talent pool to help companies fill their gaps and meet demand in a challenging economy.
"Can this person do the job, and do it well?" That's the question hiring managers are asking, not "does this person have a college degree?" And it's about time.
At the end of the day, companies just want the job done right. If someone who lacks a degree can do it and wants the role, why wouldn't they get it?
This new priority of hiring for the right outcomes means that young people need to become those right candidates. And what defines the right candidate? It's a skilled individual who is excited to be there, committed to quality, and ready to help the company achieve growth in a competitive market.
I've long been an advocate for young people to gain real-world skills as part of their education journey. Now, skills are an imperative in today's employment landscape. This is good news for the up-and-coming workers from all backgrounds and educational levels. Everyone can succeed!
So there's a lot of positive things happening in the workplace, but some are not so great. We'll talk about one of them tomorrow on the next episode of The Perna Syndicate. See you then!
---
---
---