395 - 3 Ways to Include Remote Workers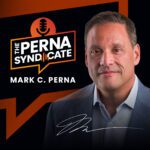 Episode: 395
Episode Title: 3 Ways to Include Remote Workers
It takes an extra effort to include remote workers in the company culture, but it's worth it. Here are three ways to start, coming up next on The Perna Syndicate.
Ep 395 show:
Welcome to The Perna Syndicate! So we've talked about the Zoom Ceiling all week and how employers need to be proactive in shattering it. Today I want to talk about three ways to make your virtual workplace an empowering one.
Number one, listen to your employees. Employees appreciate having a voice and a stake in what's to come. Not only will this boost your retention, it will also give you direction about what remote and hybrid work should look like in your unique organization.
Number two, don't just say remote work is allowed. Empower it. Allowing something and empowering something are two very different things. You need to be very clear about expectations for productivity, communication, and how performance will be assessed—and of course, how remote employees will be supported and integrated into the company culture.
Number three, focus on culture and connection for new employees. Though remote work is productive, remote workers may not find it easy to become part of the fabric of the company. Scheduling team-building and mentoring activities will help ensure that they actually happen. This is important for everyone, but especially newer employees.
It takes a deliberate effort to keep remote workers connected, but it's worth it to make sure the Zoom Ceiling is never part of your organization. Shattering the Zoom Ceiling isn't just the right thing to do—it's also an incredible strategic advantage.
As always, I appreciate you taking part in The Perna Syndicate this week! I'm your host, Mark Perna, and we'll see you back here next week for more insights on education, career, and the new world of work. Take care!
---
---
---