39 - Show Us the Money Say Younger Workers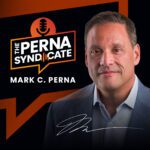 Episode: 39-Show-us-the-money-say-younger-workers
Tease: How do you feel about negotiating your salary? Your answer might just depend on your generation. Coming up next on The Perna Syndicate, we'll find out which generation is telling employers to "show us the money."
Ep 39 show:
I'm your host Mark Perna—welcome to today's show! It's no secret that every generation in the workforce today prioritizes salary above all else. But who's the most likely to actually ask for that bigger paycheck? A recent Randstad survey reveals that it's Gen-Z and Millennials who take the boldest approach in salary negotiations.
Did you know that nearly three out of four Gen-Zers and Millennials expect a pay raise every year in order to stay at their current company? Compare that to Boomers and Traditionalists (also known as the "Silent Generation"), where the number drops significantly—Boomers to 62% and Traditionalists to 43%.
Additionally, almost six out of ten Gen-Zers and Millennials say they've used a potential job offer as leverage to negotiate a higher salary at their current company. That's significantly lower for both Boomers and Traditionalists who've done the same. Likewise, 55% of Gen-Zers and Millennials admit they've told a prospective employer that they had another job offer when they really didn't—simply as a negotiating tactic.
Despite younger workers' more assertive approach to salary negotiation, there's one important thing that all generations agree on. A significant majority would prefer that raises be given based on performance, rather than simply as increases to adjust for cost-of-living and inflation.
That's right: workers, young and old, don't just want more money handed to them; they want to earn it.
And there you have it: today's insight from The Perna Syndicate. For more free resources, connect with me at MarkCPerna.com.
---
---
---