351 - Business As Usual Is Never Coming Back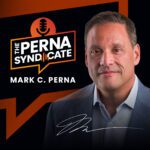 Episode: 351
Episode Title: Business As Usual Is Never Coming Back
As millions of workers leave their jobs for better opportunities elsewhere, it's clear that business as usual is never coming back. But is that really a bad thing? Let's talk about it, next on The Perna Syndicate.
Ep 351 show:
Hello and welcome! It's a new week on The Perna Syndicate and I'm your host, Mark Perna. 'The Great Resignation' is a phrase we're hearing a lot these days—and with good reason. 20 million Americans have already left their jobs in this mass quitting spree. And it's anyone's guess how many more are actively planning to resign in the coming months.
Employers are bracing for the coming storm, and many are already feeling it. But—is it all bad?
Instead of the Great Resignation, many are now calling this shake-up by a new name: the Great Reshuffle. I believe this is a better way to describe these massive changes in the workforce—because they're not all negative.
Business as usual is never coming back. The status quo isn't good enough anymore. The pandemic gave us all a moment of pause, to think about what we really want out of our life and career. And the conclusions we've reached—employers and employees alike—are going to transform the face of work.
Yes, there are many challenging things in the workplace right now. But the Great Reshuffle is setting the stage for a fresh start. Approaching these trends positively is the best way to move forward in a post-pandemic workplace.
Tune in this week as we cover four key areas where the Great Reshuffle is shifting the dynamic between employers and employees. It's going to be a great discussion. We'll see you back here tomorrow on The Perna Syndicate!
---
---
---