342 - Hybridizing the Workforce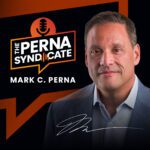 Episode: 342
Episode Title: Hybridizing the Workforce
What suffers the most when coworkers aren't together? Let's talk about it, coming up next on The Perna Syndicate.
Ep 342 show:
Welcome to The Perna Syndicate! Yesterday, we talked about the new era of hybrid work that we're entering. It's more than just a more flexible schedule for workers. It's a fundamental shift toward employee autonomy. 
The hybrid model, of course, is simply a combination of remote and in-person work. And every employer does it differently. Often the employee decides when they work where. Other times the company divides the workforce into two or more cohorts that alternate in-office and remote work schedules. 
Employers need to accommodate the new thirst for flexibility that employees have discovered over the past year and a half. But many are also realizing that, as great as remote work is, there are certain things from onsite collaboration that it just can't replace.  
Lucid CEO Nathan Rawlins says the two things that suffer the most when coworkers are apart are creativity and innovation. The answer is not necessarily to force everyone back into the office full time, but rather to rethink how we can bring teams back into a connected, productive relationship. 
Hybrid work is a great way to meet individuals' need for flexibility and freedom, while also ensuring that teams remain in touch and inspired by one another. No matter what our unique working persona or needs, none of us does our best work in a silo. Creativity and innovation thrive in teams that can work together well—no matter where they're located.
Coming up this week, we're going to look at three different workstyles and how hybrid work can empower them all. First up, we'll talk about the introverts in your workplace. See you back here tomorrow on The Perna Syndicate!
---
---
---