315 - It's Time to Take Action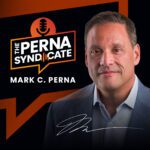 Episode: 315
Episode Title: It's Time to Take Action
Shifting the paradigm starts with each of us, individually and together, making a difference in our community. Find out more, coming up next on The Perna Syndicate.
Ep 315 show:
Hello and happy Friday on The Perna Syndicate! Yesterday, my team and I had the absolute pleasure of hosting the first-ever Education with Purpose: Call to Action event. This livestream experience was designed to bring communities together around a shared vision for purpose-driven education and employment.
If you attended the Call to Action, you might be wondering what's the next step? Now that we have all this fantastic information and we're all on board with the vision, how do we actually get there?
As dynamic as it was, I can't solve all the world's problems in a two-hour webinar. It's up to each one of us, individually, to shift the paradigm in education, workforce, and economic development, in our communities. And the next step is to start the dialogue.
Get the decision-makers together and start asking questions. Assess where you're currently at in the areas of education, workforce pipelines, and economic viability. What is your current education climate? What businesses are hurting for skilled workers? What is contributing to your local skills gap? Then, start setting goals for where you want to be.
Ask your stakeholders: What goals do we have for adapting our education system and pipelines? How can we make "purpose" the driving force of our instruction? What roadblocks do we need to remove for young people to achieve true career readiness? Get the dialogue started—and keep it going. We've had the call. Now, it's time to take action.
Thanks for being part of The Perna Syndicate this week! For more resources and tools to bridge the skills gap, connect with me at MarkCPerna.com. I'd love to hear from you. We'll see you back here next week on The Perna Syndicate!
---
---
---