311 - New On-Ramps to Success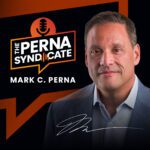 Episode: 311
Episode Title: New On-Ramps to Success
Today, there are many new on-ramps to career success. So why are we still crowding students onto the college path? Find out, next on The Perna Syndicate.
Ep 311 show:
Hello and welcome to a new week on The Perna Syndicate! I'm your host, Mark Perna. Do you ever think of the working world as a highway? Workers are all driving toward their goals—some fast, some slower, but they're all going somewhere in their life and career journey.
So how does a young person, just entering the workforce, get going on this career highway—without crashing? Well, first they need directions on how to reach the highway. Then, they need viable on-ramps to merge onto it. Once they're on it, they need to find their lane, the sweet spot where they can thrive. 
College used to be the best way to get a head start on your career journey. But today, there are so many new on-ramps being built. And some of them can really fast-track your career. 
Apprenticeships are one such on-ramp. So are internships, specialized industry training programs, credentials, micro-credentials, tech bootcamps, licensures, and a myriad of other ways to get the skills you need at work. 
So with all these new and effective on-ramps to career success, why are we still crowding all students onto one pathway? College can be great, but it's not the best route for everyone. And sadly, too many young people who take the college road never even make it to the highway.
We need to celebrate the many new on-ramps to success—and help young people get on the one that will take them where they want to go.
You can bring this message to your stakeholders and community leaders at the first-ever Education with Purpose: Call to Action livestream event this Thursday, October 21. Visit EWPAction.com for more info and to register. See you back here tomorrow on The Perna Syndicate!
---
---
---