281 - A Mindset Shift for Diversity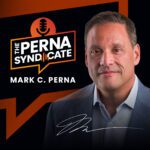 Episode: 281
Episode Title: A Mindset Shift for Diversity
Success for diverse professionals starts with a mindset shift, not just for their employer but also for themselves. Find out more, coming up next on The Perna Syndicate.
Ep 281 show:
Welcome—it's a new week on The Perna Syndicate! I'm your host, Mark Perna, and this week I want to talk about a top-of-mind issue for workplaces everywhere: diversity, equity, and inclusion (or DEI). There's been great progress in this area over the past several years, but there's still a long way to go before everyone sees different as good.
To talk about this issue, I recently connected with Andy Agouridis, founder of the career site CareerHigher. Agouridis, who was born in Greece and moved to the UK to earn his master's degree, has experienced firsthand the struggle to fit in and make strong connections in the workplace.
But Agouridis also points out a big positive to having a diverse background. Such individuals can leverage their uniqueness at work because it's an asset, not a liability. It all starts with a mindset shift—and the first mind you need to change is not your employer's, but your own.
Discrimination has been a real thing for far too long. Companies are starting to realize that prioritizing diversity and inclusion is both ethical and smart. But sometimes diverse professionals still see their differences as a weakness, rather than a strength.
Making this mental adjustment can help them tailor their pitch to communicate the immense value they bring to the table. Don't forget: You can't shift an employer's mindset about your unique contribution, unless you've already shifted your own.
Tomorrow: when searching for a job, how can candidates uncover a company's true stance on diversity issues? Find out on tomorrow's episode of The Perna Syndicate. We'll see you then!
---
---
---