273 - The Growing Empathy of Gen Z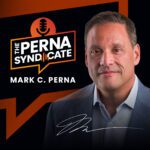 Episode: 273
Episode Title: The Growing Empathy of Gen Z
One of the pandemic's silver linings is the growing empathy that it has imparted to the next generation. Find out more, coming up next on The Perna Syndicate.
Ep 273 show:
You are now in The Perna Syndicate—welcome! This week, we're talking about the impact that COVID has had on the mindset of Generation Z. One of the big insights that they have taken from the pandemic is the importance of communities working together to achieve a common goal. 
By witnessing this, members of Gen-Z, as well as their parents, say that they have become more empathetic. Fully 85% of college students say they gained a new appreciation for the struggles of others as a result of the pandemic. 
This shouldn't surprise those of us who engage with Gen-Z students and coworkers regularly. They're already one of the most socially conscious generations in history, and take a deep interest in what's happening in the world. This is something all of us can learn from, no matter what our generation. 
I recently connected with one Gen-Z man named Mykel Broady to learn more about his experiences during the pandemic. He shared that it pushed him to further discover and define himself. Amidst isolation, he says, he faced a crossroad with his newfound free time: to indulge in it or strategically use it to further understand himself.
Broady chose to use that time wisely. After months of reading insightful books, fighting internal battles, and keeping an open mind to learn from others, he says he's never been more aware of his purpose. He also feels more prepared to influence others for the better. Today, the world needs all the positive influence, impact, and empathy that Gen Z can bring. 
On tomorrow's show, join me as we talk about the branch creak crisis moments in life and why young people need to experience them. See you back here tomorrow on The Perna Syndicate!
---
---
---