260 - Thriving in a Skills-Based Workplace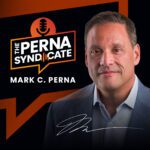 Episode: 260
Episode Title: Thriving in a Skills-Based Workplace
The labor market today is shifting faster than ever. Next on The Perna Syndicate, here's some advice for young people preparing for the next step of their education and career.
Ep 260 show:
Hello, welcome, and let's jump into today's episode of The Perna Syndicate! All week, we've been talking about the shift in recruitment, away from college degrees and toward a more skills-based focus. As young people prepare to launch their careers, here are some strategies to help them thrive in this changing workforce.
As companies move away from automatically requiring a college degree for every position, they'll be looking for job skills to be demonstrated in other ways. Young people can use a variety of online tools and assessments on LinkedIn that help candidates get noticed for their skills. 
And of course, today it's not just about technical ability alone. Soft skills, or as I call them, professional skills, are also critical. Young people should be ready to demonstrate their aptitude in such areas as time management, communication, project management, leadership, customer service, and more. 
As the labor market continues to shift, more and more young people will be asking themselves if college makes sense for them. It's a great question, and one that parents and educators should also be asking. We never want to push college for its own sake. It needs to be the right choice for that individual student. 
Finally, new graduates should know that learning never stops. Lifelong learning can be as simple as listening to a podcast, reading an interesting article or book, keeping up with trends and thought leaders, and taking an online course. Graduating and landing that first job are great milestones, but don't stop there. If you want to thrive in a skills-based workplace, never stop learning. 
Thanks for being part of The Perna Syndicate this week! You can go deeper at MarkCPerna.com, where I post fresh content and episodes weekly. We'll see you back here next week on The Perna Syndicate.
---
---
---