251 - Getting Off the Pandemic Roller Coaster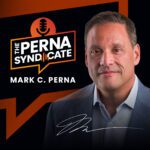 Episode: 251
Episode Title: Getting Off the Pandemic Roller Coaster
Now that the roller coaster of the pandemic is slowing down, how are employees grappling with the mental health challenges it created? Let's talk about it, coming up next on The Perna Syndicate.
Ep 251 show:
Welcome to a new week on The Perna Syndicate! I'm your host, Mark Perna. For almost a year and a half now, we've lived in pandemic mode. It's felt like a roller coaster in many ways, with lots of emotional highs and lows. But now the time has come to step off the ride and assess the damage to our mental health. 
A recent survey of 2,000 adults across more than ten industries found that most respondents reported a negative effect on their mental health since the pandemic began. 59% have worried about losing a loved one, 50% have suffered from loneliness and 37% said their level of personal stress has worsened. Millennials, in particular, continue to suffer from feelings of loneliness and depression. 
Another study found that 46% of Gen-Z employees reported a decline in their mental health due to the pandemic. This generation is also the most likely to seek counseling.
They've been stressed financially, too, with nearly half being furloughed at some point in 2020, compared to just under 1 in 3 of all employees. As of January, 43% of Gen Z employees had worked an additional job, and 71% did so because of the pandemic's economic impact on their life. It's been rough. 
As we exit the roller coaster of the pandemic, it's clear that the workforce has been left with some big struggles in the area of mental health. Employers now have an opportunity to demonstrate their people-first commitment—coming alongside these workers with the help and resources to get through these challenges. 
Tomorrow, we'll look at the critical link between company-provided mental health resources and employee loyalty. We'll see you back here tomorrow on The Perna Syndicate! 
---
---
---