242 - Some Will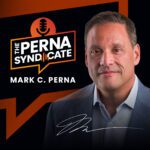 Episode: 242
Episode Title: Some Will
The first part of the SW4 Technique is simple: some will. Let's talk about what that means, coming up next on The Perna Syndicate.
Ep 242 show:
Hello and welcome—you are now in The Perna Syndicate! Yesterday I introduced what's known as the SW4 Technique: some will, some won't, so what, someone's waiting. This simple idea is easy to remember, and helped me greatly in the early years of my career. 
Some will. There are people out there who need what you're offering. It doesn't have to be a product. It could be an idea, an approach, a vision to make the world better in some way. We're all marketers, offering our contributions daily to the people around us. 
It could be your employer that needs the ideas and insight you bring. It could be a coworker, a client, maybe a friend or family member. If your offering makes a positive difference in the world, someone WILL tap into it. Some will. 
But you have to be willing to put it out there—and stay top of mind for the other party. That's because timing is everything in sales and marketing. For the some that will, it has to be the right time for them to say yes, based on a myriad of factors in their life. The right solution at the wrong time isn't the right solution. 
Timing is something you often have no control over, so you just need to make yourself and your offering available and ready when they are. 
This takes persistence, but be encouraged: if you keep at it, some will. 
Tomorrow on the show, we'll cover the second component of the SW4 Technique, "some won't." It's not as discouraging as it sounds and I'll tell you why, tomorrow on The Perna Syndicate. See you then!
---
---
---