201 - Are Employers Responsible for Employee Wellbeing?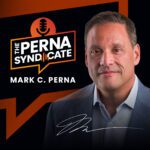 Episode: 201
Episode Title: Are Employers Responsible for Employee Wellbeing?
Are employers responsible for their employees' overall wellbeing? According to a new study, a vast majority of employees think so. Stay tuned for more, coming up next on the Syndicate.
Ep 201 show:
Hello and welcome—you are now in The Perna Syndicate! We all know that happy employees are more productive. At the same time, the workforce has never struggled with mental health more than right now.
How happy are employees, really? And how much responsibility do employers bear for their team's overall well-being and happiness?
A new study by MetLife can help answer that question. The study found that a stunning 3 out of 4 individuals believe that their companies do have a responsibility for their wellbeing. In other words, they are looking to their employer for more than a paycheck.
It makes sense. If the younger generations are seeking purpose in their work at a higher rate than previous generations, naturally they'll also see their work as a source of support in areas like mental, physical, and emotional health.
They're bringing their best to work because they see it as a way to make a positive difference in the world. For many younger workers especially, work is so much more than just a job. It's a huge part of who they are—and who they can become.
As we ride out the pandemic and all the upheaval it has brought, companies need to take a proactive approach to employee happiness. Employees are looking for a people-first workplace culture—and to stay competitive, employers need to deliver.
This week, we'll discuss some further insights uncovered by the MetLife study and how to bridge the growing divide between employers and employees. See you back here tomorrow on the Syndicate.
---
---
---