123 - The COVID Slide Is Real, But So Is Students' Resilience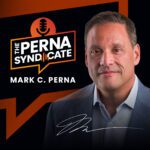 Episode: 123
Episode Title: The COVID Slide Is Real, But So Is Students' Resilience
With the COVID learning slide, students are behind. But they can bounce back quicker than we might think. We'll talk about this and more on The Perna Syndicate, coming up now.
Ep 123 show:
Hello, and welcome—I'm your host, Mark Perna! This week, we're talking about the COVID learning slide that students have experienced since their education was disrupted by the pandemic. As parents, educators, and stakeholders, we have tremendous responsibility to approach this challenge constructively. And I believe we can.
Yesterday we talked about meeting students where they're at, rather than where they should be. Today, I want to remind us how incredibly strong young people have proven to be—so much so, that Generation Z has already earned another nickname: Generation Resilient.
In their young lives, students have overcome so much already. Just think about the things they've experienced over this past year. And while I know many of these challenges will follow us into 2021, I also know that these young people will come out stronger on the other side—many with a passion to make the world a better place.
I don't want to minimize the educational setbacks—they're real. It's hard to switch to a completely virtual learning environment overnight, and to make this change in such a scary and emotional time.
But with educators committed to seeing them succeed, these students have every chance of not just catching up, but exceeding all expectations. They're resilient.
The COVID slide is real, but it only measures academic learning. What about the other, non-academic lessons that students have learned this past year? We'll talk about that and more tomorrow on the Syndicate. See you then!
---
---
---