110 - How 2021 Will Test Generation Resilient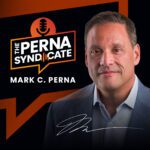 Episode: 110
Episode Title: How 2021 Will Test Generation Resilient
Gen Z is now becoming known as Generation Resilient. But how will 2021 test their optimism for a better future? Stay tuned for more, coming up next.
Ep 110 show:
Hello and welcome to The Perna Syndicate! Yesterday, we talked about the new Generation Resilient, as Gen Z is now being called. Their optimism and ability to bounce back from tough situations can inspire all of us as we navigate a post-pandemic, post-election world. 
But how will they stand up to the test if 2021 turns out to be a rerun of 2020?
Their resilience—and everyone else's—will continue to be pushed to the limits. Hopes are high for the COVID-19 vaccine…but it's not here on a mass scale yet. Masking, social distancing, public shutdowns, quarantine orders, loss of employment, mental health, and of course our physical health will continue to be challenges in the new year. 
There's no silver bullet that will fix all these issues. Young people, who may subconsciously believe that these problems are only temporary, may find themselves wondering just how long 'temporary' is going to last.
To them, and to all of us, I would say: keep moving forward. Don't stop, don't wait for things to get better. Keep making a positive difference where you are, day by day, in big ways and in small. It all adds up, and it all matters. Better days are coming. They may not come as fast as we'd like, but they will come.
2021 will brings its own set of difficulties, but with the resilience and endurance that Gen Z and the rest of us have learned from this past year, we're up to the challenge. 
Thanks for being a part of The Perna Syndicate this week. For more episodes, visit MarkCPerna.com/syndicate. We'll see you next week!
---
---
---